From the Chicago Sun-Times and the Dallas News

  October 25, 2004
Burnell, Max age 90 of Evanston, IL, passed away October 20, 2004, in Dallas, TX. He was born May 7, 1914, in Duluth, MN. A graduate of Duluth Cathedral H.S. in 1935, Max was a top honors student and a 2-year All-State Football player. While in high school, he lettered in 5 major sports during his junior and senior years. He went on to graduate from Notre Dame in 1939, and while there was a member of the Notre Dame Monogram Club, lettered for 3 years in football, and played in the college all-stars game. Following his college years, he played professional basketball for the Detroit Eagles, and professional football for the Chicago Bears in the early 40's. Max is renowned for his high school football coaching career of 36 years, including 15 years as Athletic Director and coach. His longest tenure was St. George H.S., where he coached for 20 years and accumulated: A National Championship 1943, 2 Chicago Mayor's Bowl City Championships, 4 Catholic League Championships, 9 undefeated League Division seasons, and a winning streak of 22 consecutive victories. During his coaching career, he achieved a win/loss record of W303, L92, T21, and was voted Coach of the Year 8 times, including once at Bishop Lynch H.S. in Dallas, TX. Additionally, he is listed in 4 Coaches Halls of Fame. In 1992, Coach Burnell was awarded the Frank Leahy Award by the University of Notre Dame for his outstanding coaching and leadership of high school athletes. He was Catholic and was also a Grand Knight of the Knights of Columbus. Max is survived by his son, Max H. Burnell, Jr. & wife Carol of New Orleans, LA; daughter, Marla Moser & husband Jake of Rockwall, TX; 7 grandchildren; and 13 great-grandchildren. Funeral services will be held 10:00 am, Tuesday, October 26, 2004, at Our Lady of the Lake Catholic Church, 1305 Damascus Rd., Rockwall, TX, with Monsignor Don Fischer officiating. Interment will follow in Rockwall Memorial Cemetery. The family will receive friends Monday evening at Rest Haven Funeral Home-Rockwall Chapel from 6:00 to 8:00 pm. A Memorial Mass in honor of Coach Burnell will be held 10:00 am to noon, November 13, 2004, at St. Nicholas Catholic Church in Evanston, IL. In lieu of flowers, the family requests memorial contributions to The Max Burnell Memorial Fund, c/o The Christian Brothers, 7650 County Line Rd., Burr Ridge, IL, 60527. Rest Haven Funeral Homes-Cemetery Rockwall-Chapel, 2500 State Highway 66, East, Rockwall, Texas, 972-771-8641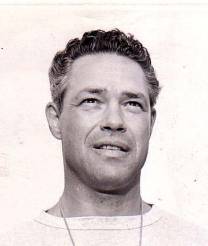 MAX H. BURNELL SR., 90
Coach trained players for victory and for life
By Imran Vittachi
Tribune staff reporter
Published November 5, 2004
Max H. Burnell Sr. believed that coaching was more than training varsity squad players to prevail on the football field. It was also about preparing teenage boys to steel themselves for hard tackles beyond the gridiron.
Throughout his 20 years at St. George High School in Evanston, said his son, Mr. Burnell felt it his duty to build his players into men, because he had been orphaned as a boy.
"My dad, because of what had happened to him when he was young, was concerned about the young men who played for him," said Max H. Burnell Jr. "His rules were how you play football roll over easily into how you are as a man."
The coach inspired his players to believe in themselves, think positively and adjust to life's setbacks, said relatives and former players.
"You modeled life after him," said Bronco Telkes, 76.
Telkes was on the 1943 Dragon team that won the Mayor's Bowl City Championship at Soldier Field and a clash between varsity champions from New York and Chicago at Harlem's Polo Grounds.
Mr. Burnell, 90, a former athletic director and varsity football coach at St. George who led the school to two all-city championships, in 1943 and 1953, and a slew of titles in the Chicago Catholic football league, died of Alzheimer's disease Wednesday, Oct. 20, in Baylor University Medical Center, Dallas.
In his youth, Mr. Burnell excelled in sports. As a high school student in Minnesota, he was named an all-state player in varsity football, basketball and baseball. In college, he played for two years for the University of Notre Dame football team. Later, he played halfback for the Chicago Bears under George "Papa Bear" Halas.
Born in Duluth, Minn., Mr. Burnell lost his father and mother when he was about 12 and the family was living in Bellingham, Wash., said his son, who has never been able to find out how his paternal grandparents died.
Mr. Burnell returned to Duluth, where the Christian Brothers Catholic community took him in. He became an honor student in high school and was admitted to Notre Dame on a football scholarship in 1935.
After graduating in 1939 with a bachelor's degree in business administration, he coached several sports at the South Bend, Ind., Catholic High School. He also moved to Michigan, where he played for two years for the Detroit Eagles professional basketball team, his son said. Mr. Burnell came to St. George in 1943 and coached the Dragons until 1963. He left Illinois in 1963 to coach at Bishop Lynch High School in Texas, but he returned to the Great Lakes region, where he took on a series of high school coaching positions.
He coached at East Moline High School in Moline, Ill.; Driscoll Catholic High School in Addison; and Benton Harbor High School in Benton Harbor, Mich.
St. George High School closed in 1969.
In addition to his son, Mr. Burnell is survived by a daughter, Marla Moser; five grandchildren and 13 great-grandchildren. His wife, Kaye, died several years ago.
A memorial mass will be said at 10 a.m. Nov. 13 in St. Nicholas Catholic Church, 806 Ridge Ave., Evanston.
Copyright © 2004, Chicago Tribune
---