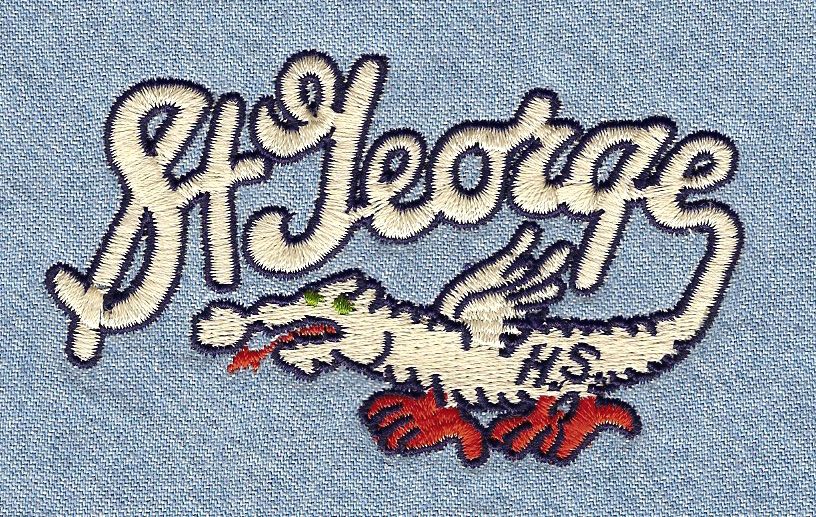 This Plaque was dedicated on November 24, 2019 Evanston, Ill.
Provided by
Cyril P. "CY" Athans  '51
This is just the musings of  a former student from St. George, thinking of how nice it would have been to have stayed in the area and socialize with you all.
 It has been about 63 years since I departed from the secure and friendly confines of St George. Little did I think I would be sitting here at 81 and reminiscing about "the good old days".  As many of us, I was just an average student that had some participation in school activities.
I was, and still am, proud to be a "Dragon". Maybe that comes from my Greek heritage. After graduating from St George I attended St Mary's college in Winona MN.  I guess I couldn't get enough of the Christian Brothers AND that's a good thing.  The following year I transferred to Arizona State College, now University in Tempe AZ.  My parents needed the Arizona climate and also need one of the offspring to accompany them because of their ill health.
 I have never had the opportunity to return to St George , after that time.  After being drafted into the Army in 1956, I lived in many locations around the country over the 33 years with the Department of Defense.  From the Salt Flats of Utah, to the Staff at the Air Force Academy, to NASA at Edwards AFB California, and the many years with the Defense Logistics Agency through Southern California. I never came close to Evanston again, except on one occasion just after St George had just
closed. I was on a flight from Washington, D C headed back to Denver, Colorado and our plane was in a holding pattern that passed over Evanston.  The gentlemen sitting next to me was a Doctor that practiced at St Francis Hospital and he commented as we looked down that it was a shame that they had just closed that wonderful Boys School.  It's a little late now to realize that I have missed much of the fun and brotherhood.  I have recently noticed several of my '51 Classmates on the " In Memoriam " list.  They were all so young ! As I look at myself I may need to reevaluate that last statement.
 In one respect you all have given me 2 things.
I have lived vicariously through the Newsletter and do feel connected to all of you in some manner.
I still feel very connected to The Christian Brothers and am in their debt for all they did for me.
 Please tell everyone that our Brotherhood of Dragons is strong and lasting.
 Live Jesus in our hearts forever.  Cyril P. "CY" Athans  '51
Class of 66 Group Photo
Provided by Don Geist
Standing Frank Palisi, Rick Royce, Don Geist, Denny Nickolson and Jim Kane.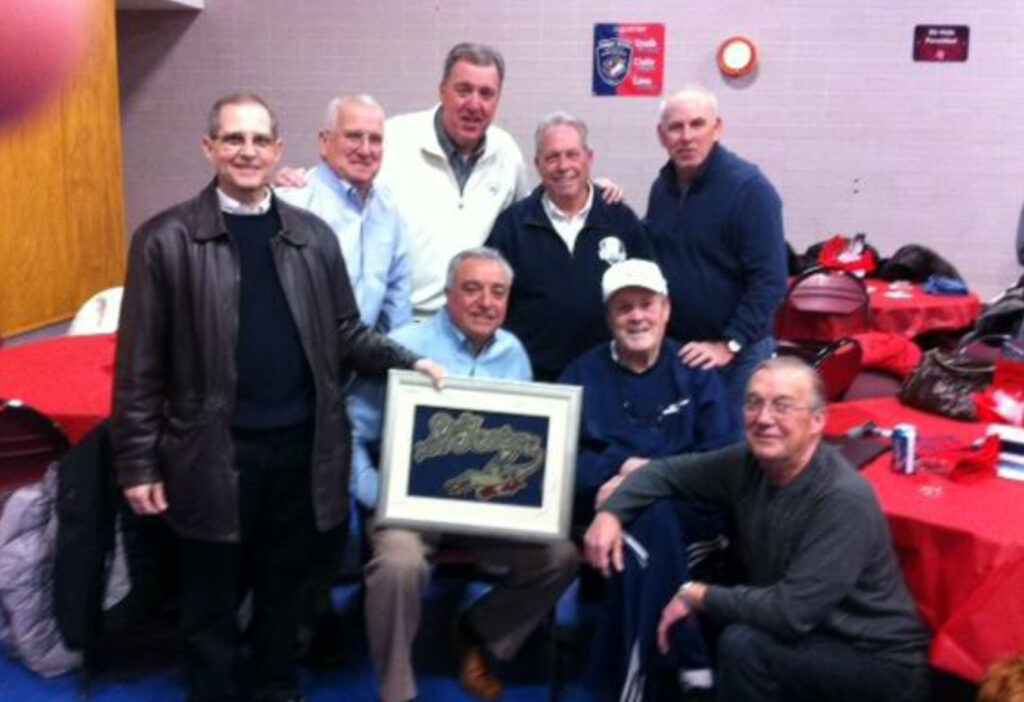 Kneeling Rocco Sapianza Jim Angsten (baseball hat), Vic Meier
Attached is a 1971 photo at the alumni banquet of some pretty important people Henry Hyde St G '48(?) the congressman.  The first modern President of the Alumni, Bill Maloney '48 from 1944 to 1970 , Man of the Year '52 and a grand man as well.  Brother Kevin, my Home Room adviser for 2 years and Brother George Kennedy.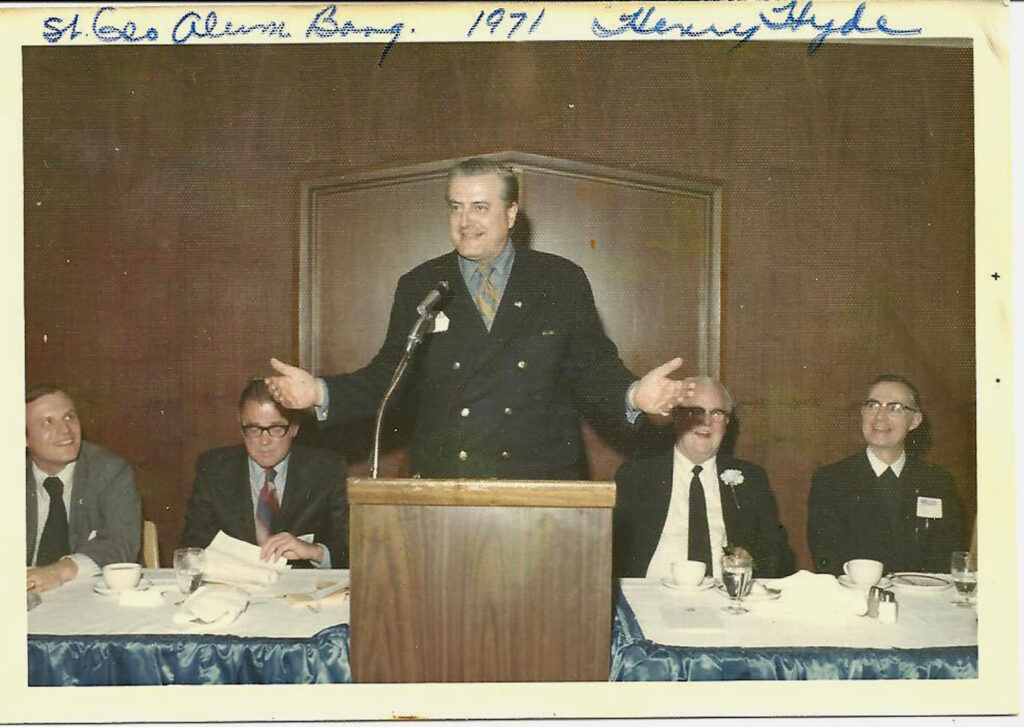 Provide by Dennis O'Malley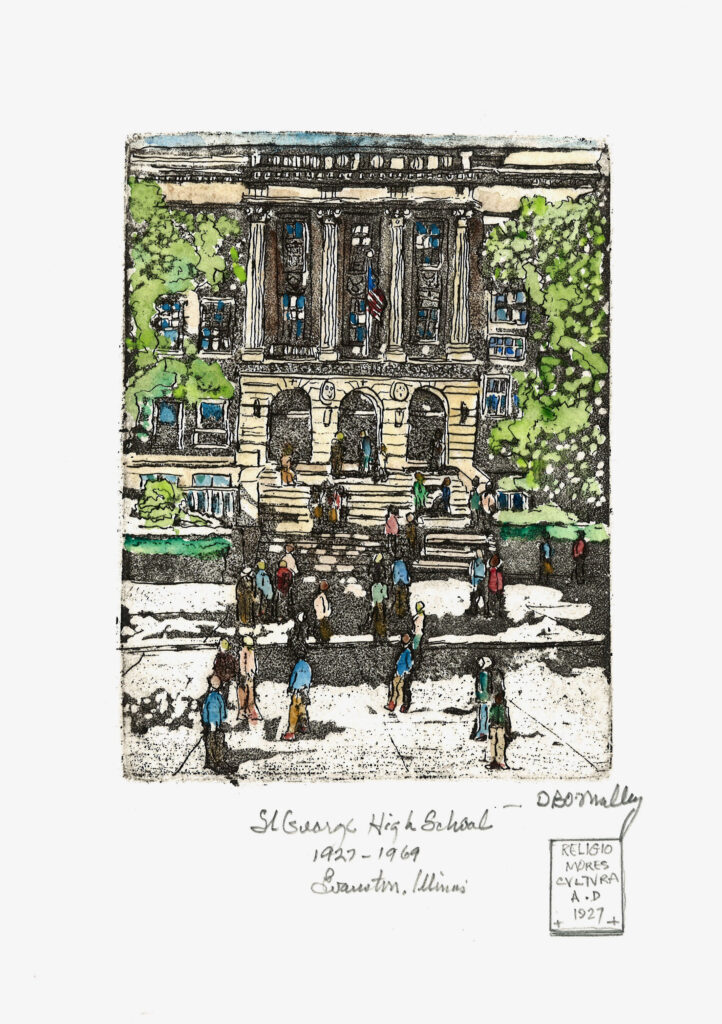 Len Strauch class of 68 has provide a photo of what is believe to be a "68 Home Coming Float from the class of 69 .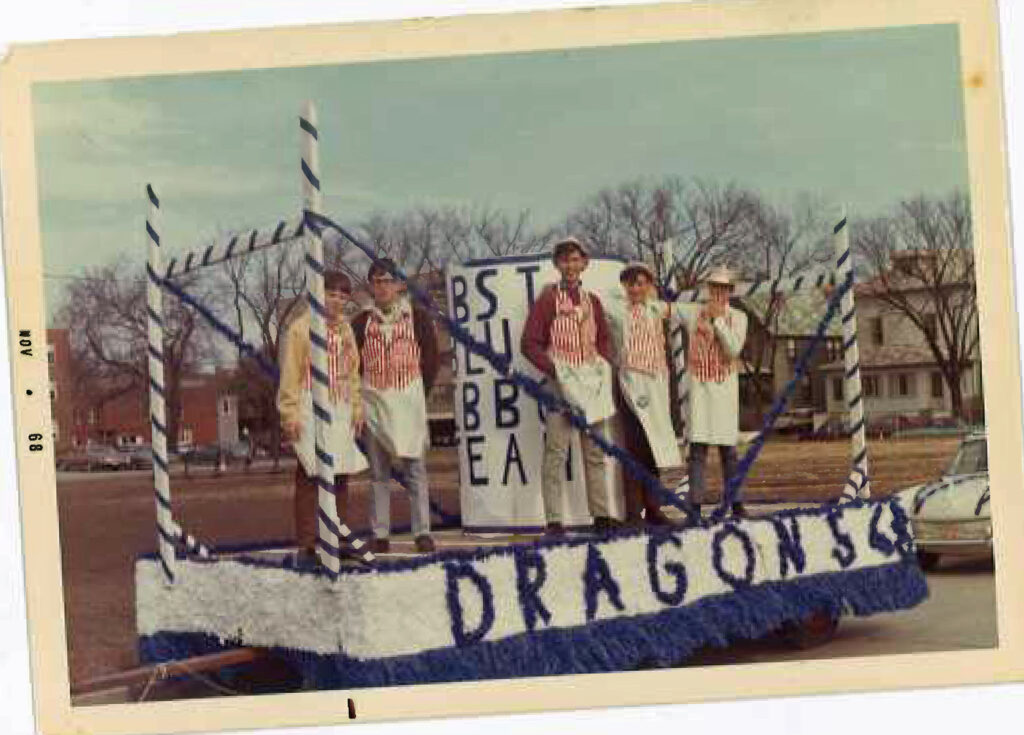 John O'Connor of Los Angeles, CA. has provided the following photographs and information pertaining to his uncle John Aloysius O'Connor, graduated from St George in 1950.
John Aloysius O'Connor  Class of 1950
Photographs of John with the Great Prize fighter Jack Dempsey.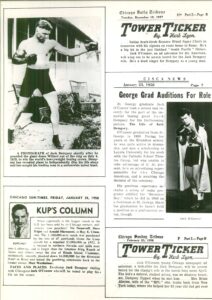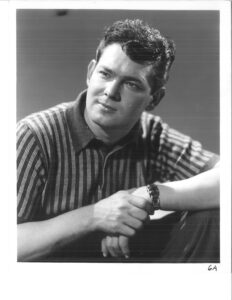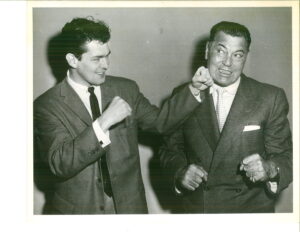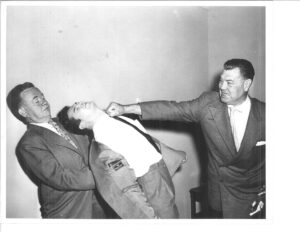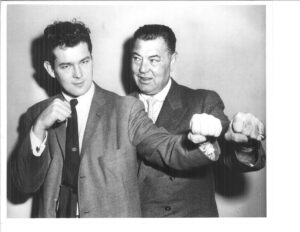 In May of 1969 a photographic book was put together by Br. James Zullo, principal and the school staff.  Please click on the link below to see 42 years of memories at St George HS.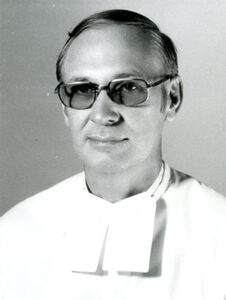 This is a very large file after the PDF has downloaded and you have viewed the file use your back button arrow on the top left of your browser screen to return to the website.
St George High School 42 years
Class of 1969
Members from the Class of 1969 have provided some newsletters from 1966, 1967 and 1968. Please click on the links below.
After the PDF has downloaded and you have viewed the file use your back button arrow on the top left of your browser screen to return to the website.
Dragon News letter January of 1967
Dragon Newsletter October of 1967
Dragon Newsletter November of 1967
Dragon Newsletter March of 1968
Class of 1931
Here's a note from Tom O'Brien on September 10, 2002:
"For the time being until an election can be held by the members of our class of '31, I'm appointing myself grand Secretary and Chief Potentate.  The first person who protests will automatically succeed to the positions.  Just today, I learned of this site and I'm delighted to know of it.  The picture of the school brings back grand memories.  When it was in process of being razed I drove past it and was tempted to swipe a few of the bricks lying around.  I regret that I didn't.
Thru the years I've tried with a little success in locating classmates and also a few in the two following classes.  There are mighty few of us.  If anyone reading this knows of any '31ers, I'll be glad to hear of, or from them.
I'm still in the flower business, but only on the internet. But my daughter Mary is continuing the family tradition by operating Pavilion Flower Shop in Naples, Florida.  My residence in Key Biscayne is only ninety miles from there, so I've been going over there frequently to either help her or hinder her.
.
All good wishes to St. George grads and also to all of the alumni of our great Christian Brothers."
Tom O'Brien
Class of 1962
OK, I'm way overdue in updating the Reunion results – but stay tuned! In anticipation of their 40th reunion during 2002, two members of this class, Bob Schmitt and Dave Zehren, published a newsletter for all the class members with known addresses.  The first issue was mailed just before Christmas 2001, to 130 guys.  Thanks to Brother Tom Hetland for the initial mailing list!  51 members have no recent address and 11 alumni are known to have passed on.  We started with email addresses for only 3 guys!  Please contact us with any updates.  A second newsletter was mailed in mid-March.
Planning has started on two "events" around the same time as the annual banquet, so if you are in touch with any of your classmates, especially in the Chicago area, start thinking and talking about a full Class of '62 weekend!  Phil DeNapoli will be the primary contact – 847-329-9743 or fillbop@attbi.com
On Saturday, May 4, 6:30 – ?? pm, we're headed to Dugan's, 6051 N. Milwaukee Avenue, Chicago.  For only $25, you'll have great food, great company and a great time!   Pay at the door and see you all there!  Here is more….
On Sunday (May 5, of course), join us on the course/links for a few holes of golf at the Wilmette Golf Course.  We are meeting for lunch and then will have many post-noon tee times – check here later for details or call Phil.
Class of 1953
We have many photos from this class and hope to have a full index soon – in the meantime, please download one of these "pdf" sheets – if you have the Acrobat viewer – and some patience for the download:
Class of 1952
Vince Druding, class of 1952 will be coordinating the reunion and wants to alert the Golden Anniversary graduates through this site. All of the Yearbook photos from 1952 are here! 
Class of 1951
Click below for a list of the graduates of the class of 1951 (50 Year Reunion). Year book photos are linked to this list.
Class of 1942
The Class of 1942 had a special event to celebrate its 60th Anniversary. Marcy Twardak wrote:
"Perhaps some of the guys whom we have been unable to reach will see this announcement. Please join us for Brunch to celebrate our 60th Reunion of the Class of 1942 from St. George on Sunday, May 5, 2002 @11:00 at the home of Phil Corboy & Mary Dempsey. R.S.V.P. Please to Sue Gitelson, 312-346-3191."
Many of the photos from the brunch are here!
Class OF 1965
A few photos from the 2005 banquet. Here are a few photos from of the Class of 1965. More to come.
St George H. S. Band
Gene Heineman class of '32 was our oldest living alum.  Gene died in Feb 3 weeks shy of his 98th birthday. He enjoyed music his entire life attend all the banquets and lead the singing of the St. George victory song.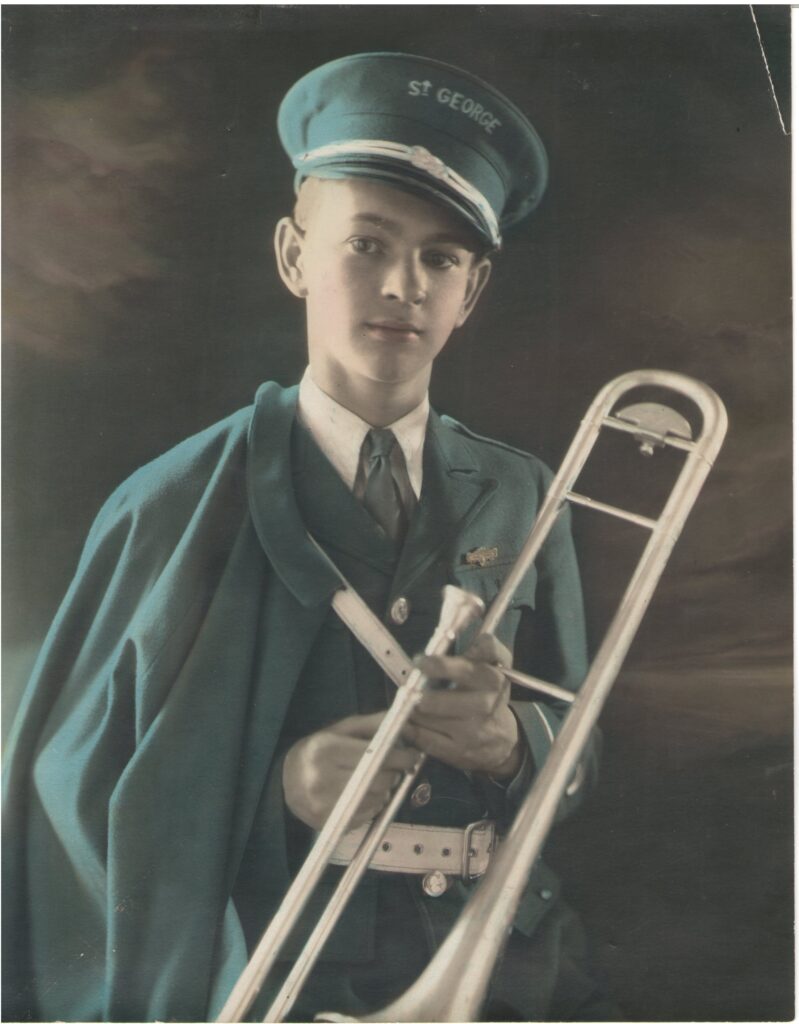 Dragon Art
This pencil rendering of the front of the school was commissioned by Karen Loos as a gift for her husband, Jack, SG 49, now deceased.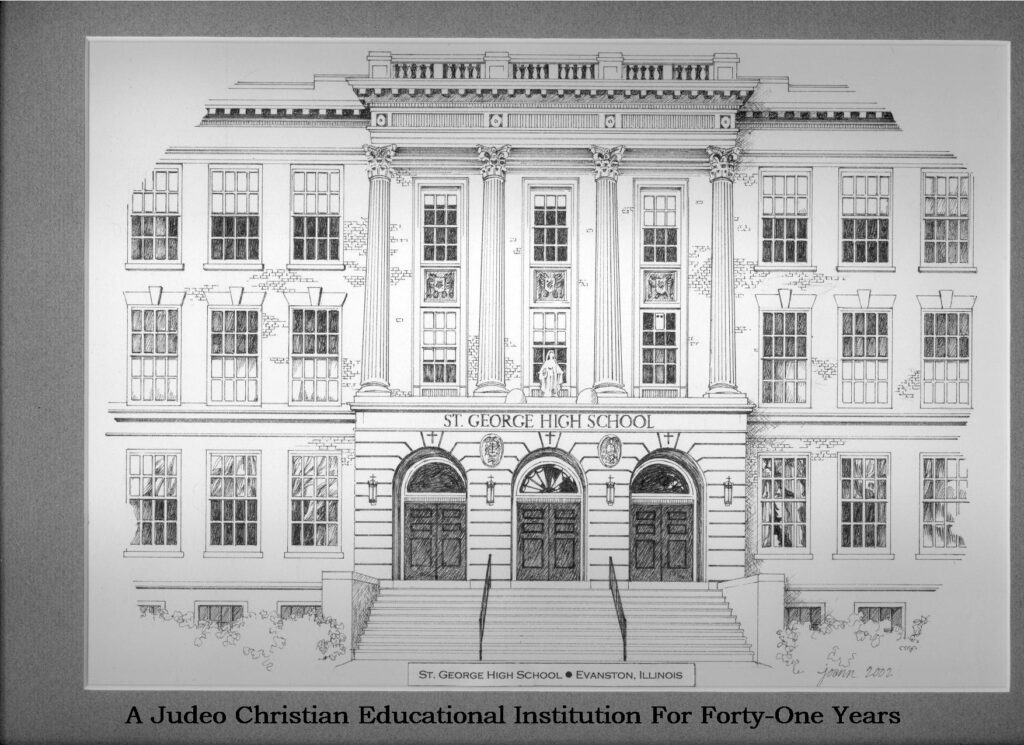 Steve Mayian,  class of '54, sent an email with a St. George logo that he photographed,   scanned and enhanced from a St. George t-shirt. Download it and use it for an iron-on transfer!
Steve later wrote that a better quality image is in the works.  And here are two the Dragon logos, from the back of my "letterman's" jacket. This is actual size, so get those embroidery machines working!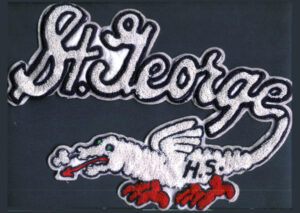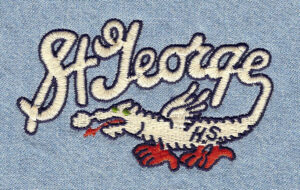 The image below was the original artwork which was used as the basis of the gym floor centerpiece painted in the summer of 1962. Artist was Jim Schmitt, Class of '63.
St. George the "Dragon Slayer" from a museum in Venice Italy
(complements of John Deleonardis Class of 65)
St. George the "Dragon Slayer"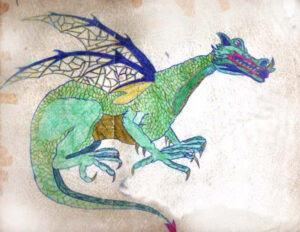 This Marker rest on the site of St. George H. S. donated by the Staff of St. Francis Hospital.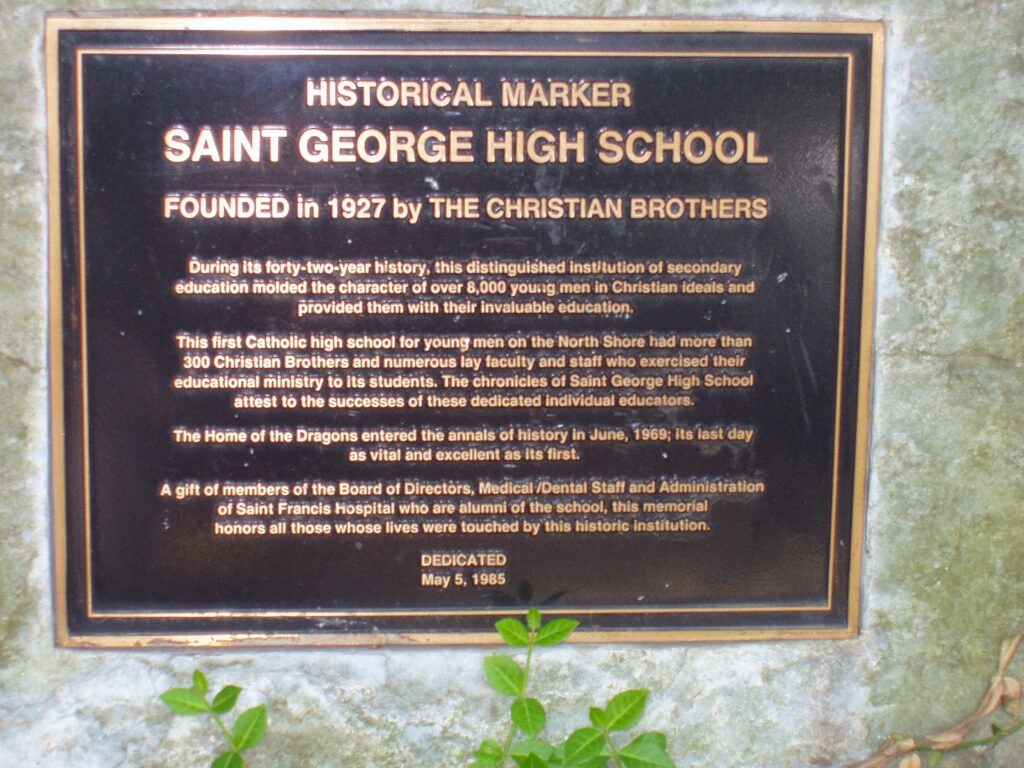 The latest marked installed  on the parking lot side 2019