Current Year
---
Class of 1943
Provided by Mike Rausch, His Father was John M. Rausch Class of 43.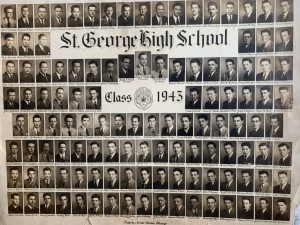 Class of 1943
Basketball Memorable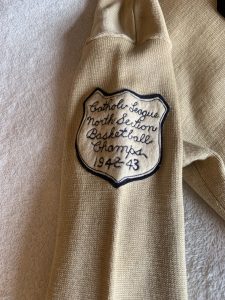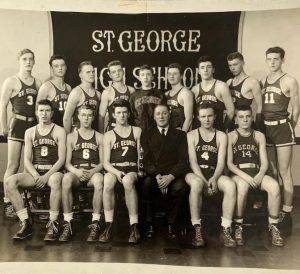 ---
Special Announcement 
It is with a heavy heart that I write to inform you that Max Burnell Jr died last night after struggling with health and memory issues for the past two years.    I spoke this morning with Carol who said that these last two months had been especially challenging and that she'd had to arrange for Max to reside in a memory care facility near their home in the New Orleans area.   She speaks with appreciation that Max is now back to full strength, reunited with his mom and dad and all the Dragons who have gone before him.
I have attached some photos.
The first two are from Max's playing days at St. George, one with his father, probably during the 1957 season.

A closeup of the trophy

Max and Carol enjoying a ride on their boat.

A very young Max with his proud papa

Max at an St George Alumni Dinner.
Let's keep Max and Carol and their family in our prayers.
Go Dragons and Live Jesus in our Hearts!
Br. Tom
---
Obituary Information.
Max's obituary is available online: www.gardenofmemoriesmetairie.com/tributes/Maximillian-Burnell Services are next Saturday (17) starting at 9 with Mass at 11:00. Max's daughter Suzette wrote a beautiful tribute to her dad.  This is found in the section "in lieu of flowers ". Reception to follow at Our Lady of Perpetual Help Catholic Church in the LaRose Center, 1908 Short Street, Kenner 70062. Please pass this along to anyone who would like to attend or be informed of Max's passing. Thank you, Carol.
Note: Suzette's tribute is at the Alzheimer's site:
http://act.alz.org/goto/Max_Burnell
Should you wish to send a card or note to Carol her address is.
2 Dumaine Dr. Covington, LA  70433
Thanks.   Let's keep Max, Carol, and their family in our prayers.
Br. Tom
---
Max Burnell Jr.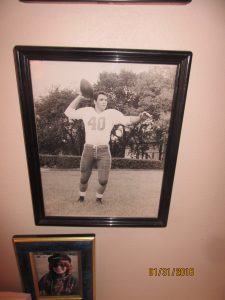 Max's Most Valuable Player Trophy.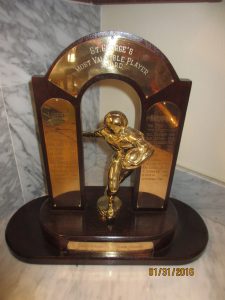 Max and Dad (Max Senior)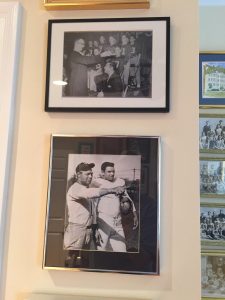 Max and his wife (Carol) he loved boating.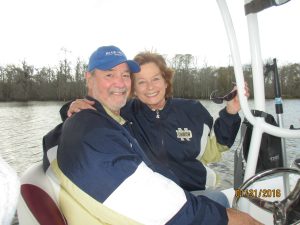 Max Jr with Dad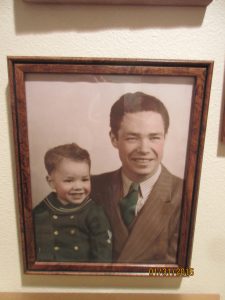 Max front row right side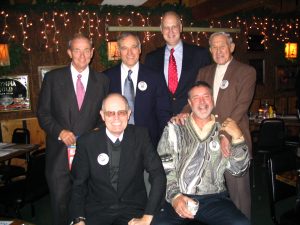 ---

New Announcement
St George Apparel Items
The long-awaited Sports Appeal link is now available.
                                                                      You will be directed to the Lands Ends website. 
---
Congratulations to John Hodel class of 65 for being inducted into the Chicago Catholic League Hall of Fame.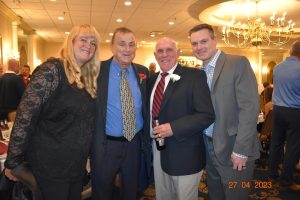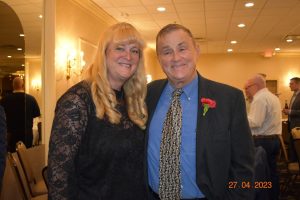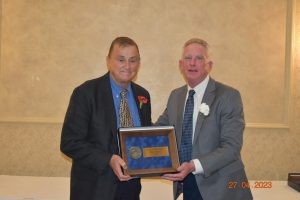 Click Here to visit the Catholic League site.
---
2022
The complete list of the St. George Man of the Year Awards.
Hover over the below link to open the list.
---
2021

This page is not available at this time check back for updates
---
2020

This page is not available at this time check back for updates
---
2019 ANNOUNCEMENTS
Ted Steirer St. George class of 1969 alumni
has shared this video in his own words;
Hi Len,
First, it was a pleasure to see some of the St. George 1969 alumni at
Mo Dailey's last month
It got me thinking about, and to look for pictures I took of the school's demolition in June of 1973.
Attached you will find a short slide show of such.
Paul Simon would not be proud of the Kodachrome slides as they have lost a little of their "nice bright colors"
after 45 years in storage.
---
The original Plaque has been replaced with a new Monument style.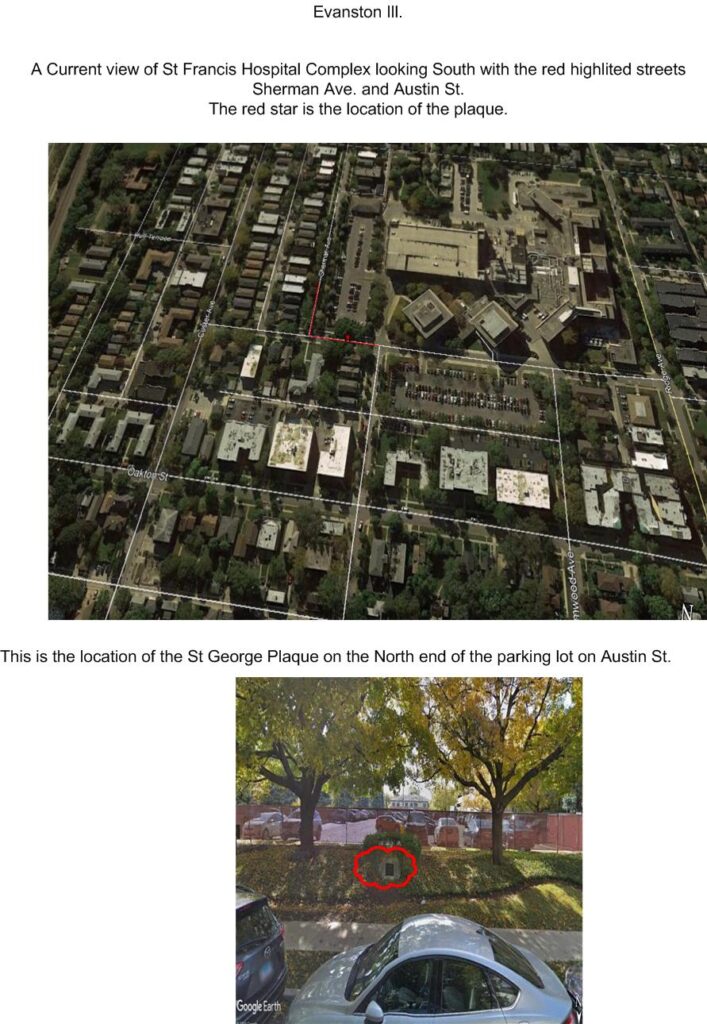 The St George Plaque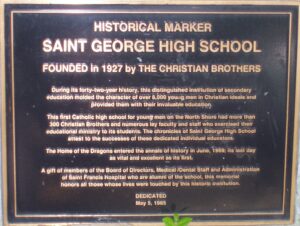 ---
Press Release
FOR IMMEDIATE RELEASE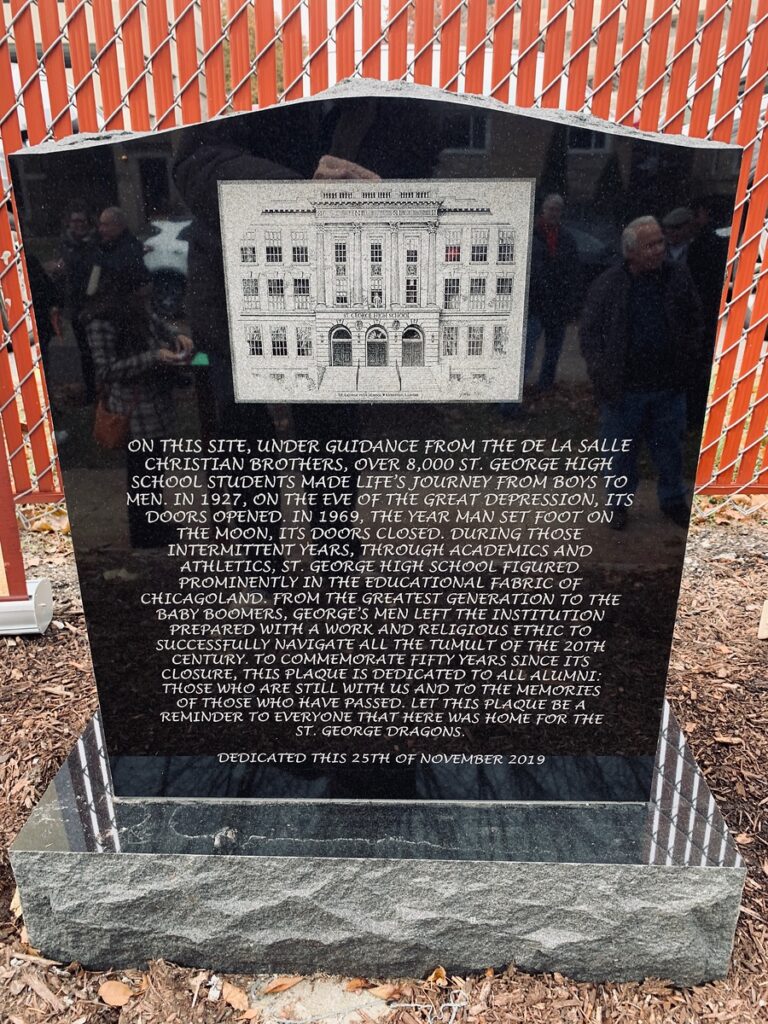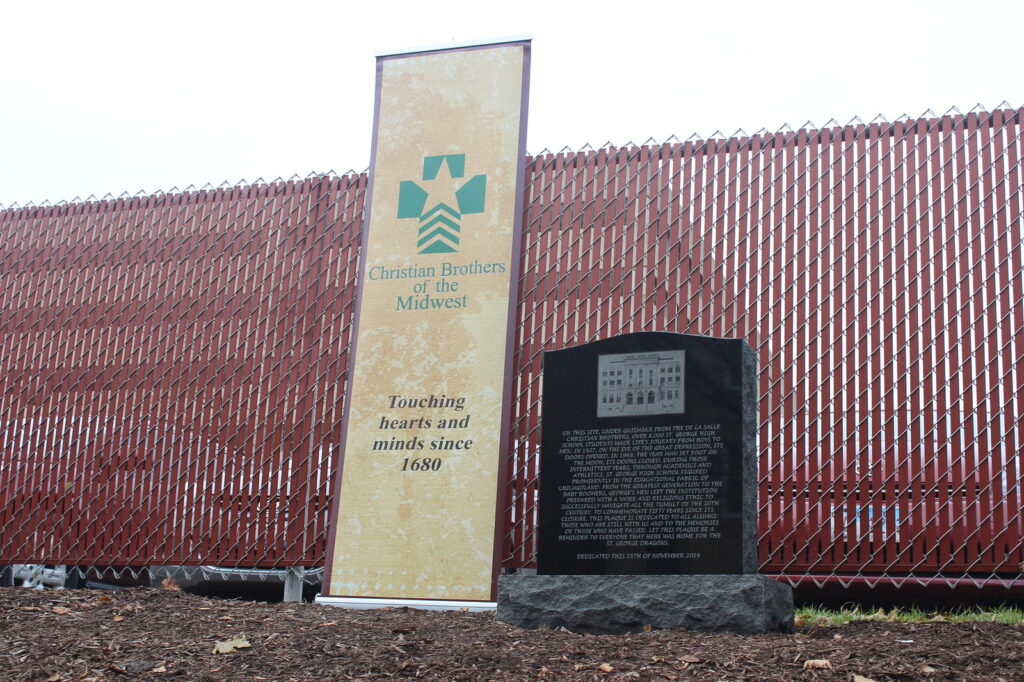 Standing from Left to Right:
Top left: Evanston Alderman Thomas M. Suffredin, Br. Tom Hetland
Bottom Left: Amita Health representative , Br. Michael Fehrenbach
Right: John O'Connell, STG Class of 1962 Anthony Chimera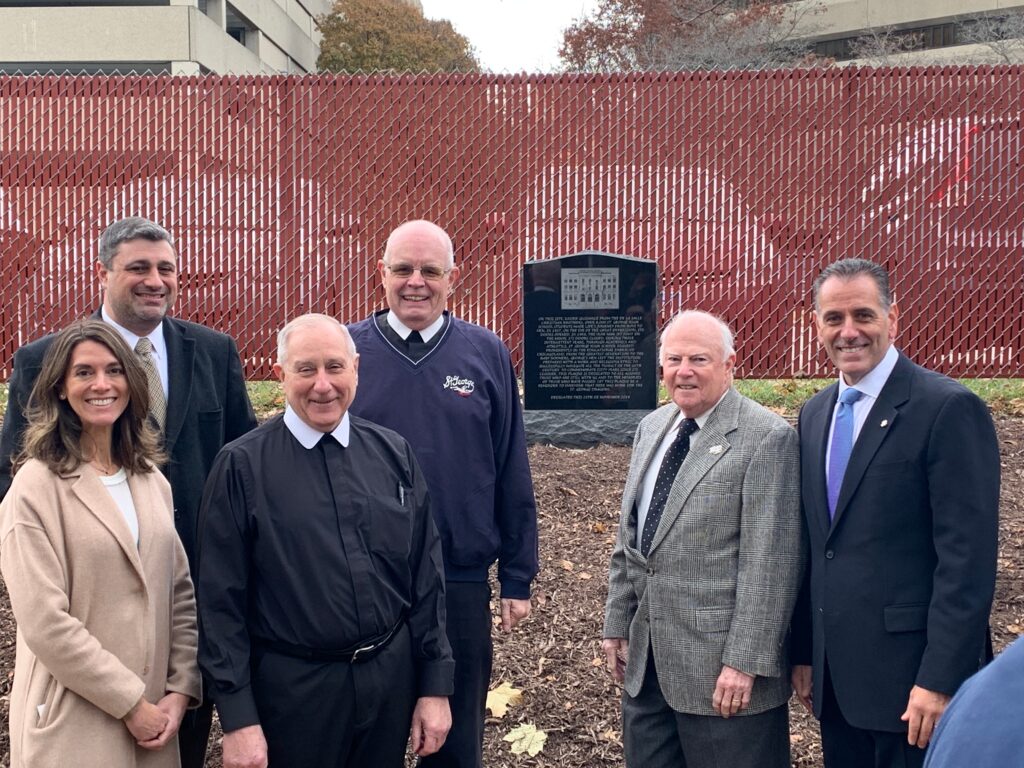 AMITA Health Saint Francis Hospital Evanston to be Site of Saint George
High School 50th Anniversary Plaque
Evanston Alderman Thomas M. Suffredin to Attend Dedication Ceremony.
Burr Ridge, IL. – November 2019: On Monday, November 25, 2019, Evanston Alderman Thomas M. Suffredin will join alumni of Saint George High School and members of the De La Salle Christian Brothers at a plaque dedication ceremony honoring the 50th Anniversary since Saint George High School's closing in 1969. Saint George High School was a Catholic secondary school operated by the Brothers of the Christian Schools in Evanston, Illinois between 1927 and 1969.
The ceremony will begin at 11:00 A.M., CST on the property of AMITA Health Saint Francis Hospital Evanston at 350 Sherman Avenue in Evanston, IL, the original site of Saint George High School. Brother Michael Fehrenbach, Visitor of the Christian Brothers of the Midwest, will offer brief remarks. All Saint George High School Alumni and members of the Evanston community are invited to attend.
The plaque was donated by Saint George Alumnus Mr. John O'Connell. "The idea of the plaque was primarily to provide a remembrance to my father's generation and to classmates who have passed away over the years," said Mr. O'Connell.
For more information about the dedication ceremony, please contact Joanna Wagner, Alumni Director, at (630) 323-3725, ext. 220.
---
Banquet Results still going strong.
SATURDAY
May 11, 2019
2019 SAINT GEORGE ALUMNI BANQUET CLASS CAPTAIN AND ASSOCIATES:
FANTASTIC WORK, ONE AND ALL!   Our ("Blue Sheet") January 17, 2019 goal — 350 in attendance at our Monday, May 6th Gathering — was exceeded (at 358) by 8 while surpassing our 2017 (at 343) and 2018 (at 344) Banquet crowds!
All of us contributing to our successful Banquet ticket acquisition this spring have every reason to be proud of our efforts.  With the final (1969) graduating class the biggest ever (at 306) — and with that class celebrating (Alumni Banquet day) fifty years since leaving Saint George — we had the "numbers base" to bring in an impressive crowd.  And we did just that!
Including pre-day-of, at-the-door, and guest ticket acquisitions, please note here your class's 2019 Alumni Banquet ticket tallies:   Our Class Captain-led groups 1946: 7;  1949: 7;  1950: 6;  1951: 7;  1952: 4;  1954: 20;  1955: 15;  1956: 12;  1957: 6;  1958: 9;  1959: 29;  1960: 8;  1961: 13;  1962: 6;  1963: 12;  1964: 36;  1965: 13;  1966: 17;  1967: 17;  1968: 19;  and 1969: 94
Non-Class-Captain class tallies:  1938: 2;  1953: 5;  1970: 3
Enhancing our 358 "numbers success" this recruitment season:   In January, supplying each Captain with the 2012 Harris Connect Directory page copies for their class and additional reminder "e-blasts" during the twelve-week Banquet ticket acquisition period.
Please:   Give the attachment to this e-mail a careful look.  (Burr Ridge) Joanna needs to track down twenty Alumni Banquet participants Monday, May 6th who weren't checked in at the door and, hence, not listed in the attachment.   Recall a classmate, a classmate guest at the Banquet but you notice the name not listed here, in the attachment?  Contact Joanna immediately, at 1-630-323-3725, Extension 220.  Thanks so much!
Available since Friday, May 10th, you, your graduation buddies, and your Banquet night guests should be interested in our great set of online photo viewings of the Event.  Try perusing www.cbmidwest.smugmug.com – with photo-purchasing help offered by Alex Vasiliades (at 1-630-323-3725, Extension 221), if you're in the "buying mood."
Special thanks to Class Captain Rene Pelletier '65 for his on-going website updating, at www.saintgeorgehs.com.   Give Rene's latest efforts an online look.   You'll be impressed!
With most of you "veteran" Class Captains, you've already received – as a small token of the Association's and my appreciation for your efforts– your limited-edition Saint George Lapel Pin.  Do let me know – by the internet (at pauljquinn@att.net) or a phone call (at 1-773-784-3328) – if there's someone recently helpful to you with your Banquet class recruitment deserving of a Dragon Lapel Pin.
Typically, we end a Dragon Alumni Banquet Season with yours truly offering you — on my dime — lunch at the Union League Club or dinner at the (Chicago, Clark Street) Calo Ristorante.
With the ever-increasing tuition challenging more Saint Patrick (High School) families each school year – the minimum 2019-2020 school year tuition cost will be more than $12,470 – I'm redirecting my Union League Club/Calo expenditure again this year to our Alumni Association Scholarship Fund, helping Dragon-related, deserving Shamrocks with their tuition payments.
Those Dragons recently donating additional monies to our Saint Patrick tuition aid effort (beyond a portion of their $65.00 Banquet ticket price) should be here especially thanked.
With the maintenance of a strong Banquet ticket acquisition critical to our continued success with our perennial, first-Monday-in-May Gathering, I sincerely appreciate your help and wish you a pleasant summer and
Only the best,
Paul Quinn '66
SGHS Alumni Banquet Chair
P.S.:      We're "luncheoning" Monday, May 4, 2020, as we celebrate our 74th Annual
              Alumni Banquet.  Tons of Dragon Alumni Banquet Luncheon information
              forthcoming!
P.P.S.:   PCI Dragon Directory updating continues.  Phone (toll free) 1-866-875-2548
             if you're one of the very few to yet contact the firm.  The Directory will soon
             be in production.
---
This article was provide by Len Strauch
Fellow 1969 Alums- The Last Dragons,
Like you, I recently received the mailing announcing the 73rd Annual St. George High School Alumni Banquet to be held Monday, May 6, 2019. The graphic of the familiar fire- breathing Dragon at the top of the letterhead made the invitation stand out. .
 This notice brought forth a flood of memories for me of our formative years spent within the walls, halls, classrooms, cafeteria, library, pool and gym at 350 Sherman Avenue. Hard to believe, but true, it has been fifty years since our class graduated and this paradise of our high school years was turned into a parking lot.
 Our classmate and student leader John Conroy wrote this simple truth for the final edition of the school yearbook, The Last Georgian. "The building called St. George is closed…but its presence will be felt for a long time."
 My first exposure to the Alumni banquet occurred in 1970, in the spring semester of our freshmen year. I had white-haired Brother Peter Dolan for homeroom, as well as for Latin. Brother also held the position of Moderator for St. George Alumni. He pulled a few of us wet- behind-the-ears frosh out of class to stuff hundreds of envelopes for that year's Alumni Reunion.
 In our senior yearbook I found this from Brother Peter. "It is not an easy thing to close the doors of St. George for good. However, this should not sever our relationship. It is my fondest hope that the Alumni Association would continue."
Brother Peter must be smiling down from his desk in Heaven above, because his fervent wish for a strong and vibrant Alumni Association has been realized. The spirit of St. George is alive and well.
 My St. George roots run deep. My late father, John (Jack) T. McCarthy III, and three of my uncles were proud St. George alums. I figure I have attended some 20-25 Reunions over the years, many with my father and uncles while they were alive.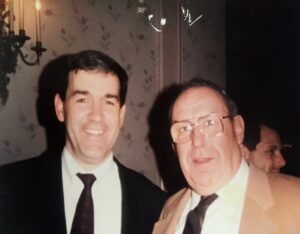 The photo here of my father and me was taken at an Alumni Reunion sometime in the early nineteen nineties. I believe that is John Pflaumer seen over my dad's broad shoulders. Dad was a member of the class of 1943 and a schoolmate of football great Marty Wendell. Their class was graduated early so these young men, part of the Greatest Generation, could go off as soldiers in WWII. Jack McCarthy served in the infantry with Patton's Third Army and was severely injured fighting in France. I am proudly the safe keeper of his Purple Heart.
 The 1996 Reunion was to be dad's last. I travelled down from my home in Milwaukee to pick up him and accompany him to the Reunion that year. Dad was sitting at the kitchen table when I arrived. Seeing me, he slapped a morphine patch on his arm, donned a dress shirt, and resolutely said, "Let's go."
 Despite the effects of advanced prostate cancer that would end his life the following month, dad was determined on this night to attend the Reunion and spend precious time with his band of brothers–his high school buddies. For him, there was to be no next year.
 Fast forward to a gorgeous night in early May 2013. I parked at the White Eagle and walked the short distance to a bar just to the north on Milwaukee Avenue. I was excited about meeting up with a contingent of the class of '69 who had convened there before that year's banquet.
 There, my old friend Carl Favaro and I settled into the corner of the bar and caught up on life over a couple of beers. He was headed to a meeting and wouldn't be attending that particular Reunion.  His wife Joanie has told me I might well have been the last person to have a beer with Carl. Soon after this memorable conversation Carl cruelly was diagnosed with a brain tumor that would end his life the following May.
The older we get the more we are reminded that life is indeed short and the future unpredictable.  The Alumni mailing counted Carl Favaro as one of the 35 members of our 1969 brotherhood who have passed on.
After St. George, I attended Marquette University and was fortunate to be there during the Al McGuire era of MU basketball prowess. Thinking back to my last time sharing those beers with Carl, a McGuire quip came to mind. "Don't wait to have a drink for a fella once he's dead, better to buy him a drink while he's alive."  I'm glad I didn't wait.
 Memories and connections aside, I have completed and mailed in my registration for our fiftieth anniversary banquet. I encourage all my classmates to make the effort to come together, raise a glass, and reunite for this very special life event. As Tom Howe likes to say, "Every day is a great day to be a Dragon."
 All the best and hope to see you at the 50th.
 John T. McCarthy
---
The 2019 Cub/Sox Spring Training Game at Camelback Stadium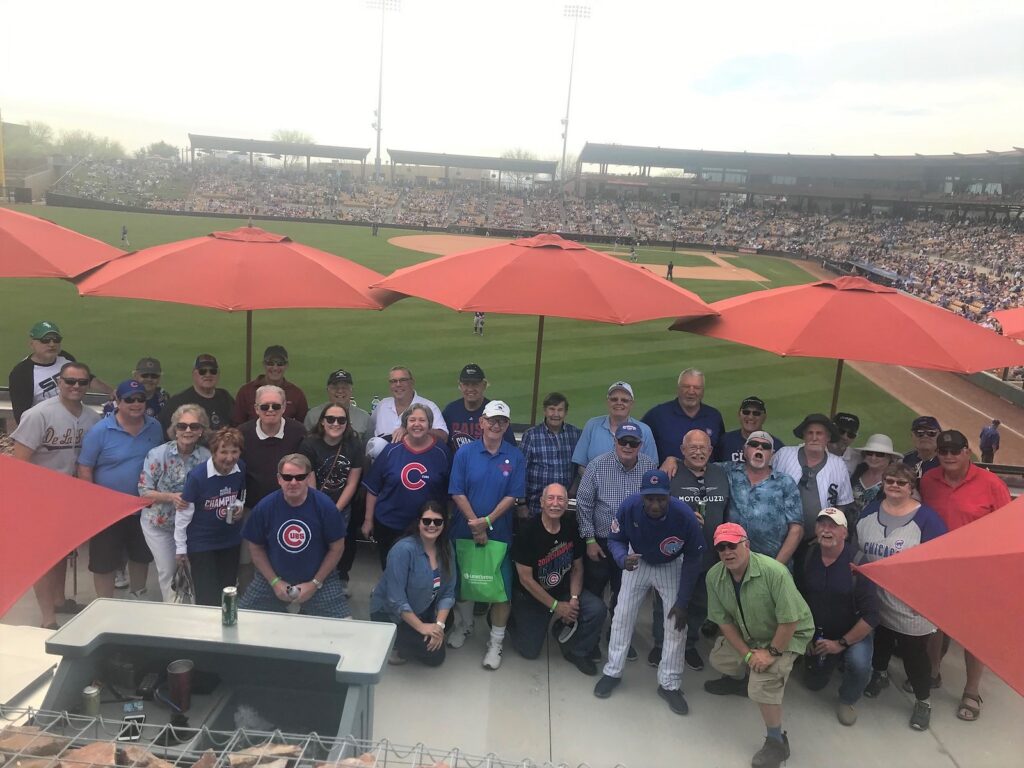 (50) St George Alumni & friends attended.
---
2018 ANNOUNCEMENTS
   Brother Charles Kelly, FSC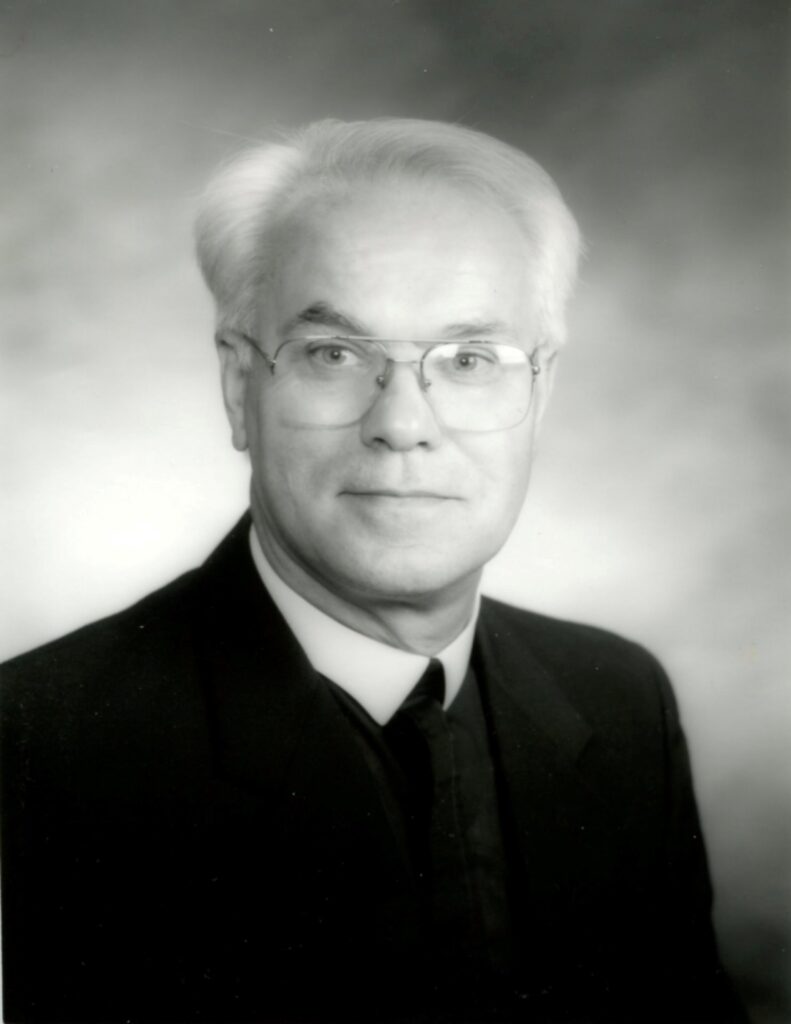 November 5, 1936
    August 3, 2018
 Holy Trinity Church
      Westmont, Illinois
        August 8, 2018
St George Alumni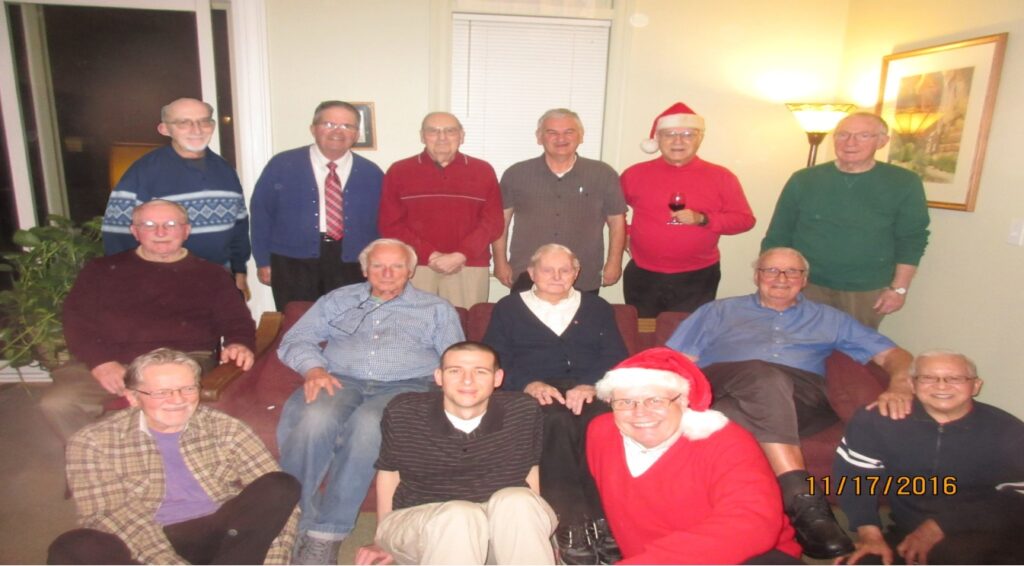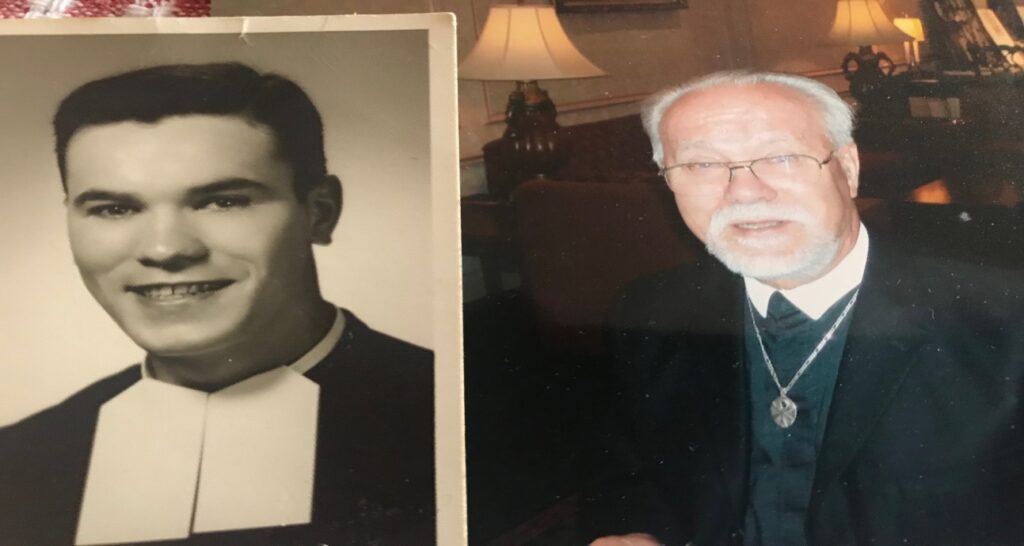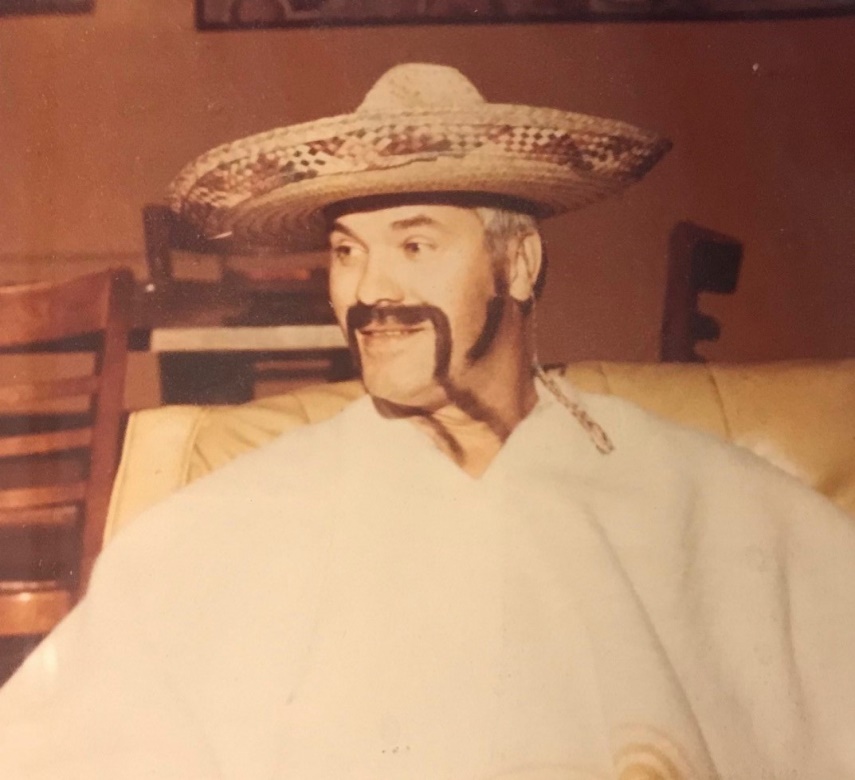 Br Charles Kelly, St George class of 1955
passed away yesterday Friday 3rd of August.
Br Kelly was a regular guest at our Alumni dinners and many events, he will be missed.
Here are the details for the funeral for Brother Charles Kelly.
Wednesday, August 8
Holy Trinity Church, Westmont, Illinois
8:30 am Visitation
9:30 am Mass of Christian Burial
Thursday, August 9
Resurrection Cemetery, Romeoville, Illinois
10:00 am Burial prayer service

Dear Lasallians – Brothers and Partners,
---
 We are pleased to announce the appointment of Anthony C. Chimera as Director of Development for Christian Brothers of the Midwest.
We were blessed with strong candidates and found in Anthony an ideal blend of professional background and Lasallian understanding and appreciation.  To say he has both faith and zeal is an accurate description.
 Anthony brings extensive advancement and Lasallian experience from his days at De La Salle, first as a student, and then for 16 years as a member of the Development Team.  Following De La Salle, Anthony worked at Dominican University as the Executive Director of Development, and then served as Vice President for Institutional Advancement at Adler University, a graduate school in Chicago for social and health sciences, for 9 years.
 At Adler, Anthony increased overall fundraising by 2100%, grew planned gift commitments by 25%, launched the University's corporate giving program, initiated the first naming campaign, planned and launched the $10 million comprehensive campaign, and dramatically increased grant revenue and alumni participation.
 At Dominican, he planned and managed a $50 million campaign while supervising annual giving, corporate/foundation relations and planned giving.
 Anthony started at De La Salle as Director of Alumni and Parent Relations, was promoted to Director of Development and then again to Vice President for Institutional Advancement.  During his De La Salle years, he raised over $23 million.
 Anthony holds a bachelor's degree in business administration from the University of Illinois/Chicago, an MBA from Dominican University, and is also a "graduate" of the Lasallian Leadership Institute.
 Please join me in welcoming Anthony to the Development Team at Christian Brothers of the Midwest and keep all of us, and our efforts, in your prayers.
 Live Jesus in Our Hearts – Forever!

Brother Larry Schatz, FSC
---
---
2015 ANNOUNCEMENTS
 Congratulations to Br Tom Hetland for 50 years of Service to the Brothers.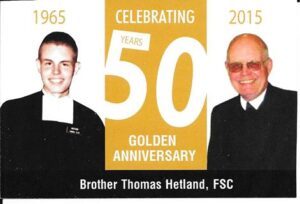 Please Welcome to the Christian Brothers/St George Team Assistant Director of Development
On September 1st, the Midwest District Office welcomed Samantha VenHuizen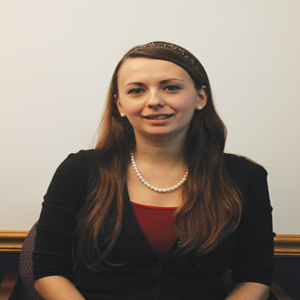 Samantha VenHuizen to the staff as an Assistant Director of Development with a focus on Lasallian Events in the District. Samantha is a Lewis University Alumni ('09) and is currently working on a Masters in Organizational Leadership at Lewis University. She has been employed at Cornerstone Services Inc. (Joliet) since September 2009 serving most recently as the Fundraising and Events Manager. In 2010 Samantha served as an AmeriCorps volunteer in Pawtucket, RI at Tides Family Services.
Ph: 630-323-3725 Ext: 220 Fax: 630-323-3779
7650 S. County Line Road Burr Ridge, IL 60527
New Alumni President
Ron Steigerwald '61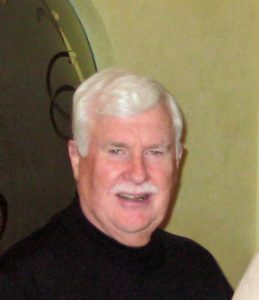 Linda and Rene Pelletier, Br Tom Hetland & Skip Braband at the Cool May 19th Sox Game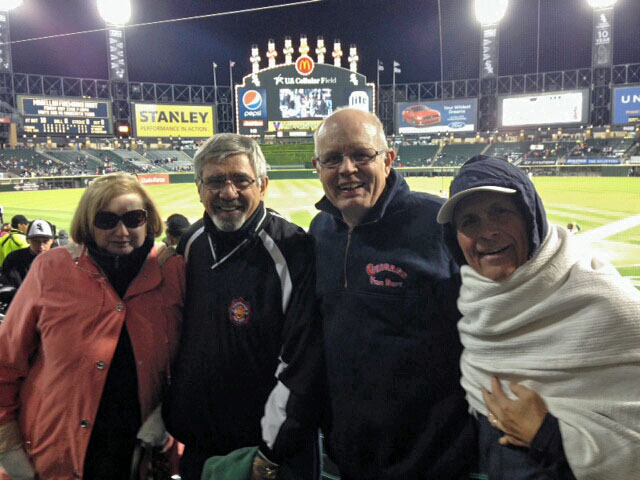 Br Tom Hetland and Friends enjoy the day at the Cubs/Sox game at Camelback Ranch AZ.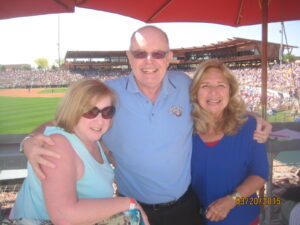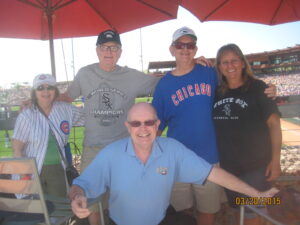 (Left) Dan Beattie 69′, RJ Pelletier 65′ and Mike Beattie 65′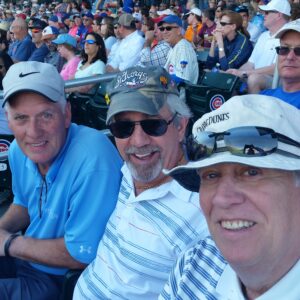 Enjoying the Day at Sloane Park Spring Training Game Cubs/Padres Game in Mesa
The St. George Alumni Association recognizes Bronco Telkes Class of 1946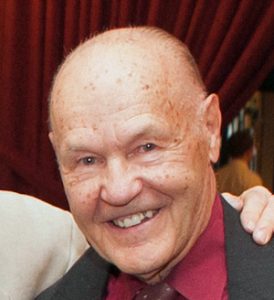 Clarence "Bronco" Telkes, Class of 1946, will turn 87 this year.   At a time when most of his contemporaries are happily retired, if not happily expired, Bronco does what he has enjoyed doing for years.   He serves as a student counselor at De Paul College Prep (nee Gordon Tech).   In over 60 years of service to students through education the number of lives that Bronco has positively impacted can be numbered in the tens of thousands.   It is hard to imagine if there is someone else in high school education who has affected more lives.   After 65 years of service Bronco is simply running up the score.   The St. George Alumni Association is proud to recognize Bronco with a special award at this year's banquet, and the Dragons invite everyone to return next year to help Bronco celebrate the 70th anniversary of his graduation from St. George.
CARL FAVARO BENEFIT CELEBRATION
"TO CELEBRATE CARL'S LIFE"
Saturday, January 17, 2015
6:00pm – 10:00pm
at the Elks Club
495 Lee Street
Des Plaines, IL 60016
Proceeds will benefit Carl's family.
Join us for food, fun, and big raffle prizes!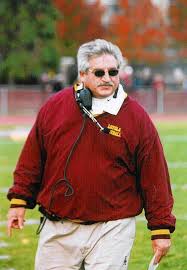 In more than 30 years as a football coach at Loyola Academy in Wilmette, Carl Favaro had a reputation for keeping a level head even in the most trying situations.
"He never lost his cool," said Les Seitzinger, who works in fundraising for the school and met Mr. Favaro as a freshman athlete.
"He was a great example of what we try to teach our students – women and men for others."
Mr. Favaro, who coached football and wrestling at Loyola, demonstrated his special leadership abilities after head coach John Hoerster died unexpectedly at the start of the 2003 season.
Mr. Favaro grew up in Chicago's Rogers Park neighborhood. After graduating from since-closed St. George High School in Evanston, he went on to North Park College. He played football at both schools, his wife said.
Mr. Favaro began his teaching and coaching career at St. Patrick High School in Chicago. After two years there, he spent a year at the since-closed Weber High School. He then moved to Loyola, where he taught physical education and health and coached football and wrestling. In his year as interim head coach, Mr. Favaro coached the team to the 2003 Chicago Catholic League Prep Bowl championship. In 2006, while continuing to teach at Loyola, Mr. Favaro became an assistant football coach at Lake Forest High School and coached there for five seasons before returning to Loyola to coach sophomore football. Baal said Mr. Favaro kept in touch with many of his former students and players, many of whom commented on his impact on their lives.
Mr. Favaro, 63, died in his Morton Grove home Saturday, May 24, of a brain tumor diagnosed about a year ago, according to his wife, Joan. At the time of his death he was the head coach of Loyola's sophomore football team.
"He was a very compassionate and understanding man who gave his all to his family, at school and to his students," his wife said.
---
2014 ANNOUNCEMENTS
50 Turkey Bowls Enough
The 50th Turkey Bowl Game
This Game was Dedicated to the Memory of
Wally McGovern
Bill Lynk
Marty Murray
---
Standing: Art McGrivern Jr. Tom Riley, Gene Heidkamp, Chris Hughes, Art McGrivern, Ed Green, Rene Pelletier, John Deleonardis, John Hodel, Tony Janda, Art's son-in-law, Brian Daly
Seated: Casey Lord, Brian McGovern, Bill Tortorello, Skip Braband, Paul Murphy, Tom Murphy, Br. Tom Hetland and Art's son-in-law, Luis Calzada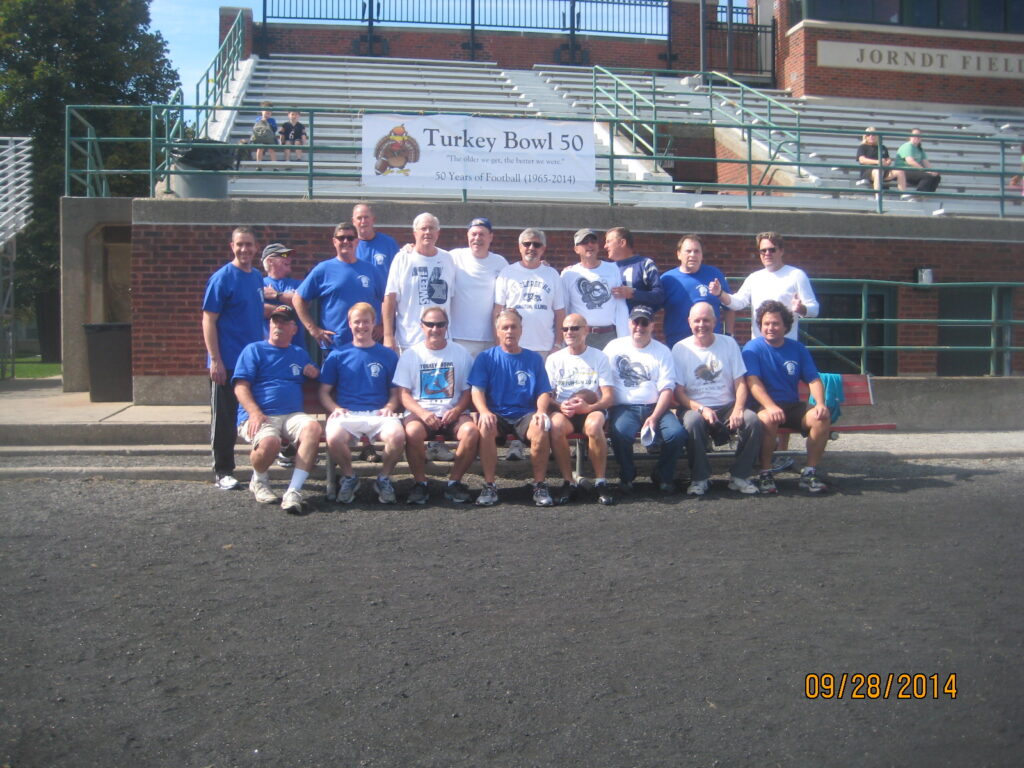 A group of lifelong friends who started an annual football game in the north suburbs in the 1960s got together Sunday September 29, 2014 at Jorndt Field for their 50th and last game.
On Thanksgiving weekend in 1965, a bunch of teenagers jumped a barbed-wire fence to play football on the pristine field of an all-girls Catholic high school in Rogers Park, and the decision has affected their lives ever since. No nuns appeared to chase them away, but occasionally they would let out there dog to chase us of the field. They had a blast. And minus the trespassing, they have continued the tradition every year since in one of the longest running "Turkey Bowls" (featuring the same core group of players). On Sunday, the half-century tradition comes to an end.
The players, graduates of the old St. George High School in Evanston — with a couple of guys from Loyola Academy sprinkled in the mix — are now closing in on age 70.
"Around the 45th Turkey Bowl, we said well let's go for 50," said longtime participant Art McGrivern. "So this will be our last one. And then we'll figure out another event to get us all together."
Throughout the years, all manner of injuries — muscle tears, sprains, fractures — have been endured. The group played in rain and snow. Wives and girlfriends showed up to cheer — except when there was rain and snow. One year, to keep the streak alive, the crew, many of whom played in high school, exited their cars in torrential rain to play two series of downs before retreating.
"My favorite memory is when [quarterback] Art McGrivern played with a cane after hip surgery last year," said Paul Murphy, a tax attorney who lives in Wilmette. "He kept it in a belt loop when he threw and used it to bat down balls on defense." McGrivern, also of Wilmette, denied illegal cane "My favorite memory is when Art McGrivern played with a cane after hip surgery last year."
Paul Murphy, Wilmette tax attorney use. "My arms are just really long," he quipped.
Another recent gem: "Watching the two slowest guys chasing each other down the field while the rest of us were rolling around on the ground laughing," Murphy said. The locker room ribbing hasn't changed much since the early years, but the meaning of the game has evolved. "At first it was just about the football, we all loved football, and over the years we realized that the value of this thing was in the friendships."
The teammates — some pals since kindergarten — have been there for each other on and off the field.
"When my daughter was in hospice for the last few weeks of her life, one of my football pals, Marty Murray, came to see her every day," Murphy said.
Murray, who did the brunt of recruiting and organizing that kept the Turkey Bowl alive over the years, died in 2012. Two other men on the roster also have passed away. Their widows have been invited to the 50th game. Kathy McGovern, Libby Lynk and Kathy Murray The game, which will be played at Jorndt Field (Winamac Park) in the Ravenswood neighborhood, has changed a bit over the years.
It typically draws about 15 guys, most of whom have made it to all but a few of the games. The group has included tradesmen, businessmen, and a former CEO.
Blocking was outlawed more than a decade ago. Two-hand touch became no running after a catch. There are no quarterback sneaks or pass rushes, Murphy said.
"We've also shrunk the field a little bit as we've gotten older, and the date has moved closer and closer to the warm weather — concessions to old age," he said with a laugh.
"It has become a very genteel game," McGrivern said. "Everybody takes care of everybody else."
---
Pictured from left to right top Rene Pelletier John Deleonardis, Skip Braband  Art McGrivern and Gene Heidkamp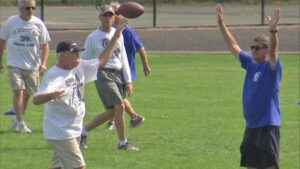 Skip Braband & Bill Tortorello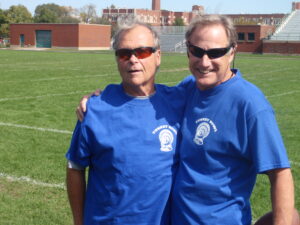 Gene Heidkamp and Br. Tom Hetland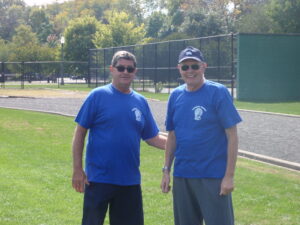 John Hodel & Rene Pelletier
The Turkey Bowl 50 game video (with special bonus features) is up on YouTube here
https://www.youtube.com/channel/UCb2TNJ27eMZinsa5B8MaL9g
---
Welcome to the Board of Directors our newest Board member Jim Vandendorpe 64′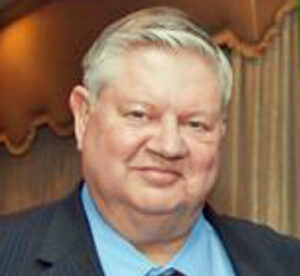 ---
Another Dragon has passed on.
 Last Friday morning the WGN radio staff began reporting that Larry Schreiner had passed away Thursday evening.
Larry had developed a long term relationship with the WGN radio staff beginning with Wally Phillips and continuing on with Bob Collins, Spike O'Dell and many others reporting from his perspective as a Chicago Police Officer. He also provided film and video footage to WGN-TV, and Channels 2,5,7 and 32.
 Larry as many might recall was part of the great St. George HS Class of 1961.
 He played on the tennis team, was a cheerleader and was very active in both student government and the Dragon newspaper where he was a major photographer which led to his later careers with both the CPD, WGN and the Chicago TV stations.
 According to the Chicago Tribune Larry was the father of 2 sons and grandfather of 2.
Visitation will be on Tuesday 6-10 from 3 to 9pm at the Cumberland Chapels.
Larry's funeral Mass will be at 10am on Wednesday 6-10 at St. Eugene Catholic Church.
 Lawrence J. Schreiner, Rest in Peace.
 Dave Stailey
---
2013 ANNOUNCEMENTS
A color print of St George HS
by Alumni Dennis O'Malley '56
---
Brother Bernard Richard, FSC, of the Midwest District, died September 4, 2013 at Resurrection Hospital in Chicago, IL.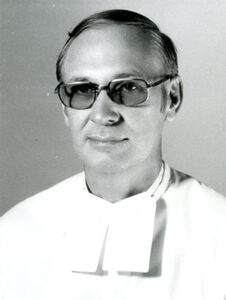 Inurnment
Christian Brothers Cemetery
La Salle Institute Retreat Center
Wildwood, MO
MILESTONES:
Born Donald George June 19, 1934 in Argonne, Wisconsin, son of George and Hellen (House) Richard
Received the habit August 1953 in Glencoe, MO
Professed first vows August 1954 in Glencoe, MO
Professed perpetual vows June 29, 1959 in Beaver Island, MI
Died September 4, 2013 in Chicago, IL
ASSIGNMENTS:
St. George HS, Evanston, IL, 1956-1960, Teacher
St. Joseph HS, Westchester, IL, 1960-1962, Teacher
St. George HS, Evanston, IL, 1962-1964, Teacher
Collegio De La Salle, Chile SA, 1964-1965, Teacher
St. George HS, Evanston, IL, 1965-1967, Teacher
Driscoll Catholic HS, Addison, IL, 1967-1969, Teacher
St. Paul HS, Covington, LA, 1969-1971, Teacher
St. Joseph HS, Westchester, IL, 1971-1977, Teacher
Liceo La Salle, Chiquimula, Guatemala, 1977-1986, Teacher
University De La Salle/ Postulando, Bogota, Colombia SA, 1986-1989, Asst. Professor/ Formation Team
De La Salle, Santiago, Chile SA, 1989-1991, Campus Minister, Community Director
CB Center, Romeoville, IL, 1991-2002, District – Office of Development
Westmont Community, Westmont, IL, 2002-2004, Retired
Oak Creek, WI, 2004-2005, Retired
Benilde Community, Chicago, IL, 2005-2012, Retired
Resurrection Life Center, Chicago, IL, 2012-2013, Skilled Care
---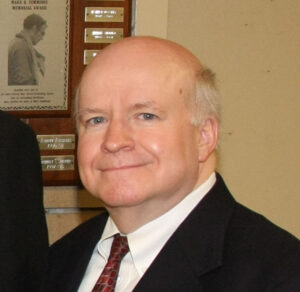 Long Time St George board Member Bill O'Leary 69′ treasurer has tendered his resignation. Bill has been instrumental in maintaining the St George Scholar ship fund and keeping a watchful on the investments Bill will be missed. He is moving on to new opportunities but will continue to attend the annual banquet and will keep in touch.
---
From Len Strauch '69
I am sad to report the John Hoeppel, class of '69 was killed in a car accident on Wed.
He will be waked today. The funeral will be tomorrow.
Len Strauch '69
Here is the info:
He was on the yearbook staff. He came to the 40th reunion with Brian Allen (also gone). Please distribute.
Thanks,
Jim Habel
George High School Group.
To view this site you need to be a Facebook member.
---
Jim Angsten 66′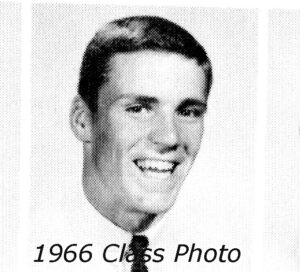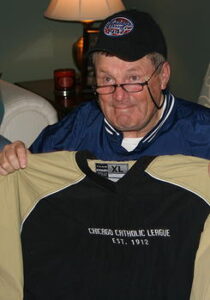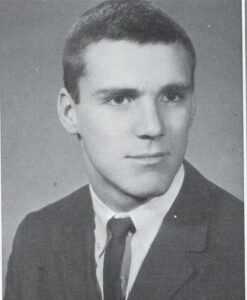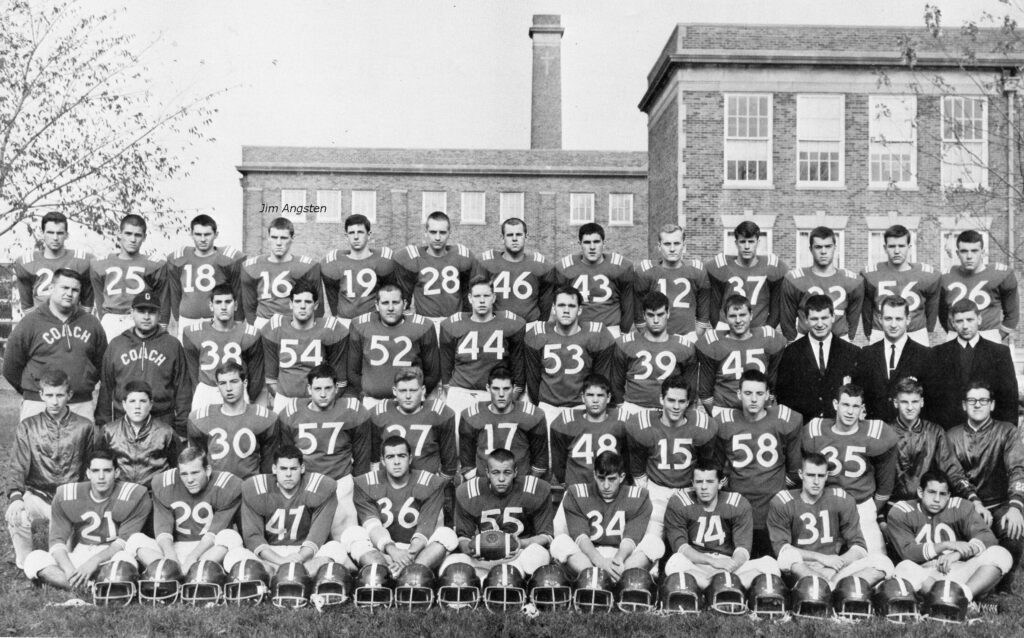 Dear St. George Alumni:
Jim Angsten is a 1966 graduate of St. George. While at St. George he was a standout student-athlete. He participated on the St. George football, basketball, baseball and track teams.  After graduating from St. George, Jim attended Western Illinois on a football scholarship where he starred on the gridiron for the Leathernecks and earned a Masters in Health Sciences.
Jim has been a teacher and coach in Catholic Education for 42 years.  His first seven years of teaching and coaching were at Montini Catholic in Lombard and for the last 35 years at St. Rita High School.  Jim is a member of the Catholic League Hall of Fame and has received numerous awards for coaching and teaching.
On April 1, 2013, Jim and the rest of the Angsten family received devastating news. Jim was diagnosed with ALS-Lou Gehrig's Disease, a horribly debilitating, motor neuron disease. There is currently only one approved treatment for this disease and no cure.  Jim has been married to Pam since 1975. They have three children Tim, Jamie & Suzie. Jim and Pam are proud grandparents to 9 grandchildren.
Over the last 25 years, "Coach Angsten" has become an avid Bike rider, last summer alone, he rode his bike 3500 miles. Despite his physical limitations, he still continues to ride every chance he gets. In honor of him, a benefit has been created to help offset the cost of the tremendous medical expenses he will incur.
On Sunday, August 18, 2013, please join us for "Coach Angsten's Cruise" benefiting, "Coach Angsten's Cause". The ride will take place at the George W. Dunne bike trail, just south of Aurelios Pizza in Tinley Park. A reception will be held after the ride at Aurelios Pizza at 159th and Oak Park Avenue in Tinley Park. Please join us for food, drinks, music, raffles and fun. 
Please visit  www.coachangstenscause.com for more information and to register for this event. We will keep you posted on other events that are being planned in the very near future to help the family offset the medical costs that Jim and his family will incur.  If you have any questions or would like to help please contact:
James F. Segredo
President
Montini Catholic High School
(630) 627-6930 x174
Please keep Jim and his family in your prayers
---
New Boards Members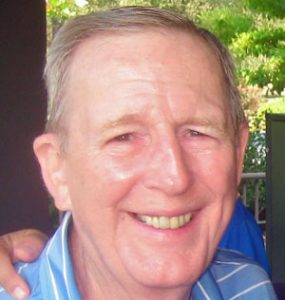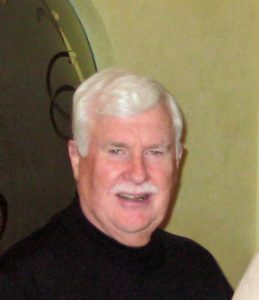 The Board of Directors would like to welcome two new board members Dennis LaLiberty '55 and Ron Steigerwald '61 to the Dragon Alumni Board!
---
Mathematics teacher Gerald Pedretti Passes Away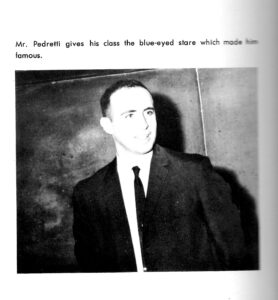 Gerald "Jer" J. Pedretti, 72, of Chaseburg, and formerly of Genoa passed away on Monday, Jan. 7, 2013, at Gundersen Lutheran Medical Center, La Crosse Jer was a high school math teacher his entire career. Passionate about education, he was demanding, but tried to make math fun for students. Jer taught the bulk of his career at Cambridge High School in Cambridge, Ohio, from 1973 to 1995. He also had very fond memories of the first school where he taught, St. George, in Evanston Ill., from 1962 until it closed in 1969. While in Ohio, he also worked as a Park Ranger several summers, and taught evening university classes for Ohio University.
Click on the link below for more information.
http://lacrossetribune.com/lifestyles/announcements/obituaries/gerald-jer-j-pedretti/article_cc447bb0-5b8d-11e2-9e0a-0019bb2963f4.html
---
2012 ANNOUNCEMENTS
UPDATE Alumni Board Member Paul Quinn heart surgery.
Paul, has made a great recovery he is working out of his house, getting stronger every day. Please keep Paul in your prayers.

The 7th Annual St George Golf Outing was another success.
138 golfers attended. See golf tab for more details.
"Congratulations to Mike Morawey '54
***Click here to read about Mike***
Alumni Board Member Phi Corboy Passes Away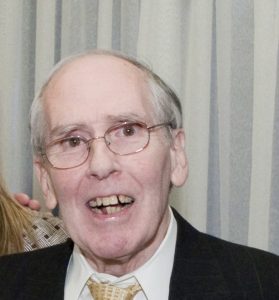 ***Click Here to read notice***
St George Honors Marty Murray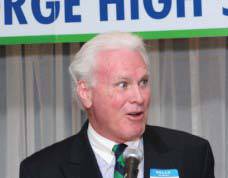 September 9, 1947—December 26, 2011
Click on the link below to see Marty and Friends over the years.
Click on the link below for the youtube Video Presentation to the Murray Family
http://www.youtube.com/watch?feature=player_detailpage&v=omo0f4OiHf8
---
St George Scholarship Fund Updates
***Click Here to read the announcement***
Phil Zera '60 to be New Alumni President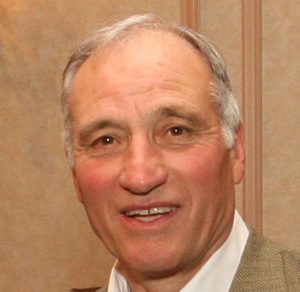 ***Click Here to read the announcement***
Long time Board Member Phil Maher's wife passes away
***Click Here to read the announcement***
Christian Brothers Announce New Director Rob Cummings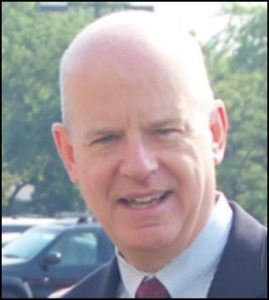 ***Click Here to read the announcement***
Dan Schmitt Moving On

***Click Here to read the announcement***
---